Over 200 posts were linked up last week!  You guys were on a roll!  Is it just me, or has the beginning-of-the-year seemed to spur on a lot of really good posts lately?  I feel like I'm becoming a pinning and twitter fool from all the encouraging inspiration.  Way to go!
This Week on Cornerstone Confessions:
This week I shared on iHN's Homeschool Mother's Journal.  If you want to learn a little more about the gears behind this momma, of if you haven't ordered my 2013 Planner yet, check out the link provided on this post to receive a 1/2 code good for the rest of the week.
Facebook is getting crazy with all their new stipulations to try to earn an extra dime.  As such, did you know that you are probably NOT receiving all the notifications from your favorite Facebook pages?  Yeah, I know.  Bummer.  That said, you can change that in one step.  Read this post to find out how.
If you need some inspiration to get your organization gears started this year, Katherine has gathered some great ideas from her Pinterest boards to inspire all.  I love all the colors and the baskets…and well, you know me, I love about anything that is about organization.
Personal Favorites:


Continuing with the organization theme, Jessica did a great job with re-organizing her office.  I really like her notebook face-lift and cord solution.
The title to this next post stirs close to home for me because it is a question I recently asked on a forum I participate in on a weekly basis.  If you blog, WHY do you blog?  Keri gives some great reasons in her post…many of which I would say would also be my own answer.
Debbie has cranked out some really cute printables this week for preschoolers–God Made it!  A to Z.  These are so fun!  Peanut is going to love these!
For those featured this week, feel free to grab a feature button:  


Now on to this week's party….
Each week I will do my best to share a few of the most clicked links as well as a few of my favorites.  Be sure to check back here every Tuesday to see if you've been featured* and to link up.  Now let's get this party started.  I can't wait to see what you have to share!   

Party Guidelines:
Post topics can include the topics of marriage, parenting, homemaking, homeschooling, devotional thoughts, time management, money management, organization, home decor, book reviews, recipes, DIY, tutorials, and more.  If it would encourage another to be a Titus 2 woman, let us hear about it, but please refrain from including giveaways, sales, Etsy, or linky party posts.  
Link as many posts as you like that have not been linked to Titus 2 Tuesdays before.  Remember, link to a SPECIFIC post, not your whole blog.
Add a party button or text back link to your post.   My personal favorites always do.  ;) Why? Because doing so not only helps my SEO, it helps yours too.  By the way, only linking to your blog parties page at the end of your post really doesn't help anyone's SEO and neither does it qualify as a backlink.  Just sayin'.  Need help?  Html for a text link back:  Cornerstone Confessions  

Visit at least two other links and share some encouragement.

Although not mandatory, I'd love it if you'd follow me in some way, shape or form.  I always enjoy making new friends.  And, if you follow me via RSS or e-mail you'll receive a link to my 2013 Goal Planning Pages FREE as a thank you!
*By the way, I also post a lot of my favorites (those featured as well as not-featured) on
my pinterest boards
.  If you are not currently following Cornerstone Confessions on
Pinterest
, I'd love to have you along.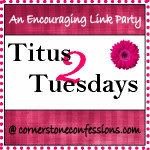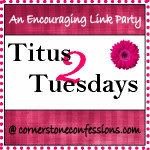 Likewise, teach the older women to be reverent in the way they live, not to be slanderers or addicted to much wine, but to teach what is good.
 Then they can urge the younger women to love their husbands and children,
 to be self-controlled and pure, to be busy at home, to be kind, and to be subject to their husbands, so that no one will malign the word of God.  Titus 2:3-5