0 Flares
Made with Flare

More Info

'>
0 Flares
×

Welcome back!  After 2 weeks of having holidays on Tuesdays I'm so glad it's finally another Titus 2 Tuesday!  I hope you have gotten off to a fresh start on those New Year's Goals and healthy habits.  All I will say is that my thighs are definitely sore!
This Week on Cornerstone Confessions:
Due to the fact that we haven't had weekly highlights for 3 weeks, these are post highlights from the past month.  Needless to say, a lot of exciting things have been happening here on Cornerstone Confessions.  Have fun perusing.
When it comes to hospitality, what do you think of first?  The cleanliness of the house?  The food?  The atmosphere?  What about your body's disposition?  Yeah, that really wasn't the first thing on my list either.  However, it's a great thing to think about.  I mean how you respond to your guests physically has a large impact on how they will relate with you the entire encounter.  As such, this post gives some fabulous ideas on what body language to look for in the presence of your guests and how to combat it in a way to put you both at ease.  Great post!
I love Gail's 1-Minute Bible Love Notes…so witty, thought provoking and heavenward focused.  And this one is no exception.  Do you ever feel like you've just heard a false prophet speak?  What Word to you have to combat it?  Oh, and for the record, God made you beautiful for His glory…it's really not about you at all.

Personal Favorites:


I've been looking for a good DIY Ranch dressing mix for some time so I was especially excited to see this post.  I can't wait to try it out!
Okay, I'll admit it.  When I first saw this link with reference to tattoos I began to wonder how in the world this post could have anything to go with encouraging other women in the Lord.  Long story short, it's now one of my features.  It's definitely a long read but what an amazing testimony.  By the end, you'll be praising Jesus for sure.  Thank you Jake for taking the time to share this on your wife's blog!
Yes, I know Christmas is now behind us but pin this post and save it for next year.  It's a roundup of free Christmas tag printables all across the web.  What a great resource!
I enjoy reading other people's New Year's goals/resolutions as inspiration for my own, but Kelli does a fabulous job narrowing hers down to 5 biggies–biggies that will impact her character more than all else.  I especially can relate to #4.  What is it?  Well go read it for yourself to find out.  ;)
For those featured this week, feel free to grab a feature button:  


Now on to this week's party….
Each week I will do my best to share a few of the most clicked links as well as a few of my favorites.  Be sure to check back here every Tuesday to see if you've been featured* and to link up.  Now let's get this party started.  I can't wait to see what you have to share!   

Party Guidelines:
Post topics can include the topics of marriage, parenting, homemaking, homeschooling, devotional thoughts, time management, money management, organization, home decor, book reviews, recipes, DIY, tutorials, and more.  If it would encourage another to be a Titus 2 woman, let us hear about it, but please refrain from including giveaways, sales, Etsy, or linky party posts.  
Link as many posts as you like that have not been linked to Titus 2 Tuesdays before.  Remember, link to a SPECIFIC post, not your whole blog.
Add a party button or text back link to your post.   My personal favorites always do.  ;) Why? Because doing so not only helps my SEO, it helps yours too.  By the way, only linking to your blog parties page at the end of your post really doesn't help anyone's SEO and neither does it qualify as a backlink.  Just sayin'.  Need help?  Html for a text link back:  Cornerstone Confessions  

Visit at least two other links and share some encouragement.

Although not mandatory, I'd love it if you'd follow me in some way, shape or form.  I always enjoy making new friends.  And, if you follow me via RSS or e-mail you'll receive a link to my 2013 Goal Planning Pages FREE as a thank you!
*By the way, I also post a lot of my favorites (those featured as well as not-featured) on
my pinterest boards
.  If you are not currently following Cornerstone Confessions on
Pinterest
, I'd love to have you along.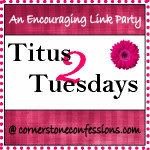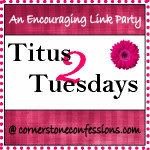 Likewise, teach the older women to be reverent in the way they live, not to be slanderers or addicted to much wine, but to teach what is good.
 Then they can urge the younger women to love their husbands and children,
 to be self-controlled and pure, to be busy at home, to be kind, and to be subject to their husbands, so that no one will malign the word of God.  Titus 2:3-5