2 Flares
Made with Flare

More Info

'>
2 Flares
×

Just a little side note this week before we get the party started.  Due to the fact that next week is Christmas and the week after that is New Year's, I am opting to keep this party open for 3 weeks!  I know that may seem a bit crazy but many of you will want to enjoy time with family just as I do this holiday season so please do!  And then, when you want to link up, go right ahead.  We will be here the entire time.  AND, when we come back on January 8th, there are going to be some amazing features because this will be the biggest link up yet!  Have fun partying!
This Week on Cornerstone Confessions:
I was very excited this week to team up with the iHomeschoolNetwork once again to share The Utlimate Guide to Christmas Music.  If you want to know the hottest Christmas music on the market or find some Christmas music for certain occasion, I've got you covered.  This guide includes Pandora stations, song lists, and even top CD purchases for each category.  I've even included a playlist for doing the chores!  LOL.  Have fun enjoying a little Christmas spirit with me; it's one of my favorite things about Christmas–the music!
And in honor of the coming season, here's my favorite snack mix to go along with the music.  Enjoy!
There is something powerful resonating with this post because it was the most viewed post last week by nearly double the clicks!  Have you ever thought about wearing a skirt or dress all the time?  If so, why?  Here's Jacie's reasons…they are pretty good ones too.
Personal Favorites:

I've been getting into a smoothie kick lately so I was immediately drawn to this Pecan Pie Smoothie recipe from last week's party.  Paired with the yummy pecans my dad shared with us for Christmas and I'll be good to go. Thanks for the recipe Sonja!
After reading this next post I just wanted to stand up and shout, "Amen and amen!"  Just this week I received an email from someone with thoughts very similar to the ones presented in this post–we should just avoid Christmas altogether because it has become so secularized and paganized.  I wanted to reply, "Really?!  Are you serious?!" I'm definitely with you on this one Rosilind.  Yes, Christmas may have become more secularized than we might like as Christians but by avoiding the celebration of Christ's birth altogether seems to me like we are just letting Satan win.  And our family for one will not let that happen!  Praise the Lord!  Jesus has come!
Wow.  I feel so convicted and inspired after reading this next post.  In fact, I think I'm going to create a 3×5 card with Bonnie's morning goals and start implementing them right away.  If you ever had the thought, "I don't feel like I got anything done this morning," then read this post.  Bonnie has put together a great list of priorities for what to get done before noon, things we can all do if we set our minds to them, and things that will have a much greater impact on the lives of our children than any ol' load of laundry.

For those featured this week, feel free to grab a feature button:  


Now on to this week's party….
Each week I will do my best to share a few of the most clicked links as well as a few of my favorites.  Be sure to check back here every Tuesday to see if you've been featured* and to link up.  Now let's get this party started.  I can't wait to see what you have to share!   

Party Guidelines:
Post topics can include the topics of marriage, parenting, homemaking, homeschooling, devotional thoughts, time management, money management, organization, home decor, recipes, DIY, tutorials, and more.  If it would encourage another to be a Titus 2 woman, let us hear about it, but please refrain from including giveaways, sales, Etsy, or linky party posts.  
Link as many posts as you like that have not been linked to Titus 2 Tuesdays before.  Remember, link to a SPECIFIC post, not your whole blog.
Add a party button or text back link to your post.   My personal favorites always do.  ;) Why? Because doing so not only helps my SEO, it helps yours too.  By the way, only linking to your blog parties page at the end of your post really doesn't help anyone's SEO and neither does it qualify as a backlink.  Just sayin'.  Need help?  Html for a text link back:  Cornerstone Confessions  

Visit at least two other links and share some encouragement.

Although not mandatory, I'd love it if you'd follow me in some way, shape or form.  I always enjoy making new friends.  And, if you follow me via RSS or e-mail you'll receive a link to my Blog-and-Home-Planner Printables FREE as a thank you!
*By the way, I also post a lot of my favorites (those featured as well as not-featured) on
my pinterest boards
.  If you are not currently following Cornerstone Confessions on
Pinterest
, I'd love to have you along.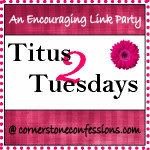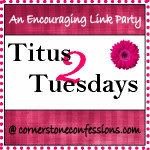 Likewise, teach the older women to be reverent in the way they live, not to be slanderers or addicted to much wine, but to teach what is good.
 Then they can urge the younger women to love their husbands and children,
 to be self-controlled and pure, to be busy at home, to be kind, and to be subject to their husbands, so that no one will malign the word of God.  Titus 2:3-5