1 Flares
Made with Flare

More Info

'>
1 Flares
×
This Week on Cornerstone Confessions:
This week the focus was a lot on books and reviews of recent reads.  My favorite of the group was getting to share my top 10 reads of 2012.  If you have any books you'd like to suggest I read for 2013, I'd love to hear your input.  I'm always looking for some great reads.
I also shared one of my favorite new recipes: Spaghetti Pie.  But don't think this is your ordinary Spaghetti Pie.  Oh…no….  This one has one special ingredient and it has literally made all the difference in the world.  I'll never go back to my old recipes again.
*Finally, this week my readers have the opportunity to win a loot in Lilla Rose products.  Be sure to check out
this Lilla Rose Fan Appreciate Event
and enter for your chance to win.
Do you date your husband?  My hubby and I are in the process of revamping our date night schedule.  I am so looking forward to the changes.  Is it THAT important?  You betcha.  Is it worth setting other stuff aside to make it happen?  Without a doubt.  Buzz over to Raising the Gang Our Way to put in your two cents on how you date your husband.  It will be so much fun to read all the ideas and try some out!
What do you do with your key?  Toss them in a bowl?  Hang them on a hook?  Leave them stashed somewhere in your purse?  Morgan is on a mission to reorganize her house.  Among this week's goals–the keys!
Personal Favorites:
Okay, these are just cool.  With All Joy is a blog dedicated to providing children's sermons with a home study guide for the week to go along with the sermons.  Seriously, I love these.  Can you tell I've never seen anything quite like them and am blown away?!  This week's "sermon" is all about having a heart of service.  I can think of so many places to share this new resource…with my pastor, with friends of little ones, for use as a weekly Bible study with my children….  I could go on and on.  Just read them for yourself and then you'll know!
Are you a blogger?  Are you verified on Pinterest?  If not, is it because you are a Blogger blogger?  Say that 5 times fast.  Lol.  Well I am a Blogger blogger and up until now was stumped on how to get verified.  No longer.  Thanks to Jamie and this tutorial I am up and running.  



For those featured this week, feel free to grab a feature button:  


Now on to this week's party….
Each week I will do my best to share a few of the most clicked links as well as a few of my favorites.  Be sure to check back here every Tuesday to see if you've been featured* and to link up.  Now let's get this party started.  I can't wait to see what you have to share!   

Party Guidelines:
Post topics can include the topics of marriage, parenting, homemaking, homeschooling, devotional thoughts, time management, money management, organization, home decor, recipes, DIY, tutorials, and more.  If it would encourage another to be a Titus 2 woman, let us hear about it, but please refrain from including giveaways, sales, Etsy, or linky party posts.  
Link as many posts as you like that have not been linked to Titus 2 Tuesdays before.  Remember, link to a SPECIFIC post, not your whole blog.
Add a party button or text back link to your post.   My personal favorites always do.  ;) Why? Because doing so not only helps my SEO, it helps yours too.  By the way, only linking to your blog parties page at the end of your post really doesn't help anyone's SEO and neither does it qualify as a backlink.  Just sayin'.  Need help?  Html for a text link back:  Cornerstone Confessions  

Visit at least two other links and share some encouragement.

Although not mandatory, I'd love it if you'd follow me in some way, shape or form.  I always enjoy making new friends.  And, if you follow me via RSS or e-mail you'll receive a link to my Blog-and-Home-Planner Printables FREE as a thank you!
*By the way, I also post a lot of my favorites (those featured as well as not-featured) on
my pinterest boards
.  If you are not currently following Cornerstone Confessions on
Pinterest
, I'd love to have you along.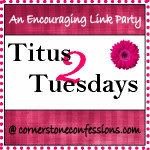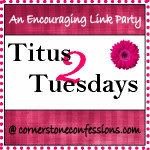 Likewise, teach the older women to be reverent in the way they live, not to be slanderers or addicted to much wine, but to teach what is good.
 Then they can urge the younger women to love their husbands and children,
 to be self-controlled and pure, to be busy at home, to be kind, and to be subject to their husbands, so that no one will malign the word of God.  Titus 2:3-5