4 Flares
Made with Flare

More Info

'>
4 Flares
×
This Week on Cornerstone Confessions:
This week we celebrated Thanksgiving, concluded my Straggling to Strong adventure, and began to think about Christmas.  Can you believe Saturday is December?!  I have to say I'm just thankful that I don't look so crazy listening to Christmas music anymore.  I love listening to "The First Noel,"  "Christmas Shoes, and "Christmas Time is Here," just to name a few.
Moms often fill guilty when they don't get their quite time in, especially new moms who are struggling between sleep or getting up before the baby does.  Rosilind provides seven excellent tips for making that quiet time with the Lord still possible and removing the guilt.  Thank you Rosilind for this post–these are great tips and ones that I can totally relate too as a mom of young ones.
Personal Favorites:
I just had to include this recipe because it is so deliciously addicting!  Yum!  It's a great combination of two Thanksgiving and Christmas dessert favorites–pumpkin and pecan.  Just remember I told you they are addicting.  ;)
Wanting to give something different this year?  Something that will last longer than the wrapping paper?  Kelsi shares some excellent ideas for just that–creating memories, hierlooms, and experiences for children as opposed to presents.  Love these ideas!
(Sorry, no picture was available at the time of posting but it's still a great post!)
For those featured this week, feel free to grab a feature button:  


Now on to this week's party….
Each week I will do my best to share a few of the most clicked links as well as a few of my favorites.  Be sure to check back here every Tuesday to see if you've been featured* and to link up.  Now let's get this party started.  I can't wait to see what you have to share!   

Party Guidelines:
Post topics can include the topics of marriage, parenting, homemaking, devotional thoughts, time management, money management, organization, home decor, recipes, DIY, tutorials, and more.  If it would encourage another to be a Titus 2 woman, let us hear about it, but please refrain from including giveaways, sales, Etsy, or linky party posts.  
Link as many posts as you like that have not been linked to Titus 2 Tuesdays before.  Remember, link to a SPECIFIC post, not your whole blog.
Add a party button or text back link to your post.   My personal favorites always do.  ;) Why? Because doing so not only helps my SEO, it helps yours too.  By the way, only linking to your blog parties page at the end of your post really doesn't help anyone's SEO and neither does it qualify as a backlink.  Just sayin'.  Need help?  Html for a text link back:  Cornerstone Confessions  

Visit at least two other links and share some encouragement.

Although not mandatory, I'd love it if you'd follow me in some way, shape or form.  I always enjoy making new friends.  And, if you follow me via RSS or e-mail you'll receive a link to my Blog-and-Home-Planner Printables FREE as a thank you!
*By the way, I also post a lot of my favorites (those featured as well as not-featured) on
my pinterest boards
.  If you are not currently following Cornerstone Confessions on
Pinterest
, I'd love to have you along.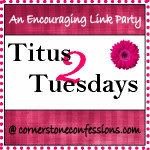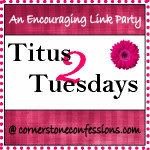 Likewise, teach the older women to be reverent in the way they live, not to be slanderers or addicted to much wine, but to teach what is good.
 Then they can urge the younger women to love their husbands and children,
 to be self-controlled and pure, to be busy at home, to be kind, and to be subject to their husbands, so that no one will malign the word of God.  Titus 2:3-5