0 Flares
Made with Flare

More Info

'>
0 Flares
×
This Week on Cornerstone Confessions:
This week was definitely exciting at Cornerstone Confessions.  To begin, I learned that I was nominated for the BEST New Homeschool Blog Award on the
Homeschool Post
.  For me, this is the CMA for Homeschool Blogs.  As such I was so encouraged by all the readers that nominated me.  Thank you so much!
Now comes the next phase of the Homeschool Blog Awards–the voting.  I feel a little bit awkward like some presidential candidate in asking for your vote, but I'd really like to see Cornerstone Confessions grow and this is one way you can spread the news if you enjoy this blog.  
You may vote one time per day from now through November 16th.  To vote for Cornerstone Confessions, go the Get Out the Vote 2012 List, scroll down to the category list links, select category #18 The Best NEW Homeschool Blog, and then click on the dot next to Cornerstone Confessions on the next page.  Finally, press "vote."  That's it!  By the way, while you're there, feel free to vote on some of your other favorite homeschool blogs as well.  I know they'd appreciate it just as much as I do.  And again, thank you so much for this honor.  Its a joy to get to share with you each and every week what God is teaching me; what a blessing it is to know that this blog is encouraging you too.
Other than that, this week I shared some posts that were both fun and heart-changing for me.  To see what I mean you'll just have to check them out.  
The title of this post almost sounds too good to be true, "How to Lose Weight Without Dieting."  Phew!  Wouldn't that be great?  Well Marina has a really good point about her tip and one that is sure to have a profound effect on many.  Do you drink soda, coffee, tea, fruit juice, meal replacement shakes, or some other form of liquid every day?  If so, then you may want to check out this post.
Looking for a new angle in which to study the Bible?  Jenni is looking at several different Bible study methods in her Discover Deeper Devotions this week.  The latest–inductive Bible Study.  Personally, this is one of my favorites.  I even have a Bible that is for that very purpose:
The Inductive Study Bible
.  If you are a person who enjoys taking notes or learning the who, what, when, where, why, and how behind what you study this may be an avenue of study you want to check out.
Personal Favorites:
There were some really amazing blog posts linked last week on marriage encouragement.  I have to tell you I read nearly all of them.  Must just be where I am I guess.  All that to say, this one stood out in my mind because of the research Joan put into it.  Need some do's and don't for your marriage?  Check this post out. Joan's provided a scripture reference for each one.
Wendy had me on this post as soon as I saw the picture.  LOL.  I admit it.  I can sometimes get really irritated with people.  I know.  You thought I was always so sweet, I'm sure.  ;)  Needless to say, I really appreciated what Wendy had to say about dealing with irritating people.  Now the next step for me will be putting some of her tips into action.
For those featured this week, feel free to grab a feature button:  


Now on to this week's party….
Each week I will do my best to share a few of the most clicked links as well as a few of my favorites.  Be sure to check back here every Tuesday to see if you've been featured* and to link up.  Now let's get this party started.  I can't wait to see what you have to share!   

Party Guidelines:
Post topics can include the topics of marriage, parenting, homemaking, devotional thoughts, time management, money management, organization, home decor, recipes, DIY, tutorials, and more.  If it would encourage another to be a Titus 2 woman, let us hear about it, but please refrain from including giveaways, sales, Etsy, or linky party posts.  
Link as many posts as you like that have not been linked to Titus 2 Tuesdays before.  Remember, link to a SPECIFIC post, not your whole blog.
Add a party button or text back link to your post.   My personal favorites always do.  ;) Why? Because doing so not only helps my SEO, it helps yours too.  By the way, only linking to your blog parties page at the end of your post really doesn't help anyone's SEO and neither does it qualify as a backlink.  Just sayin'.  Need help?  Html for a text link back:  Cornerstone Confessions  

Visit at least two other links and share some encouragement.

Although not mandatory, I'd love it if you'd follow me in some way, shape or form.  I always enjoy making new friends.  And, if you follow me via RSS or e-mail you'll receive a link to my Blog-and-Home-Planner Printables FREE as a thank you!
*By the way, I also post a lot of my favorites (those featured as well as not-featured) on
my pinterest boards
.  If you are not currently following Cornerstone Confessions on
Pinterest
, I'd love to have you along.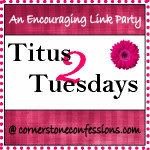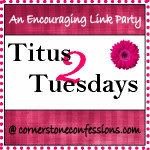 Likewise, teach the older women to be reverent in the way they live, not to be slanderers or addicted to much wine, but to teach what is good.
 Then they can urge the younger women to love their husbands and children,
 to be self-controlled and pure, to be busy at home, to be kind, and to be subject to their husbands, so that no one will malign the word of God.  Titus 2:3-5