0 Flares
Made with Flare

More Info

'>
0 Flares
×
This Week on Cornerstone Confessions:
Yesterday I shared 3 of my favorite health books.  These are my constant go-to's.  If you are looking for a new exercise routine, a healthy cookbook, or some emotional motivation, these are for you.
Last week I also finished up my newspaper activities series.   We had so much fun doing each of these activities.  And it was so cheap!  What could be better than that?!
Have you ever thought about adopting?  You scared about the process or the cost?  In this post Christie shares her heart about why they have chosen to adopt…no…matter…what.
Wow.  If you knew you might be dead within a few hours, how would you respond?  Would you worry more about your life and how to save it or do all you could to share the gospel with whoever would listen before the lights would fade for you all?  This is one amazing Titanic story I've never heard before.  Definitely inspiring.  Oh that we all had a little more urgency in our ministry like Harper.
Personal Favorites:
You ever tried freezer cooking and given up in frustration?  I have!  That said, Su gives some great ideas for making it possible.  It doesn't have to be a one day burn-out.  It could be a build-up overtime.  Talk about encouraging.  I'm definitely going to give it a try again thanks to Su's encouragement.
This next post required some amazing research and one that I am totally thankful for.  You ever wonder what the Bible REALLY says about fasting?  When?  If?  Why?  Well Wendy has done some amazing research on all of it.  Definitely a resource worth keeping around.  Thank you Wendy.
For those featured this week, feel free to grab a feature button:  


Now on to this week's party….
Each week I will do my best to share a few of the most clicked links as well as a few of my favorites.  Be sure to check back here every Tuesday to see if you've been featured and to link up.  Now let's get this party started.  I can't wait to see what you have to share!   

Party Guidelines:
Post topics can include the topics of marriage, parenting, homemaking, devotional thoughts, time management, money management, organization, home decor, recipes, DIY, tutorials, and more.  If it would encourage another to be a Titus 2 woman, let us hear about it, but please refrain from including giveaways, sales, Etsy, or linky party posts.  
Link as many posts as like that have not been linked to Titus 2 Tuesdays before.  Remember, link to a SPECIFIC post, not your whole blog.
Add a party button or text back link to your post.   My personal favorites always do.  ;) Why? Because doing so not only helps my SEO, it helps yours too.  By the way, only linking to your blog parties page at the end of your post really doesn't help anyone's SEO and neither does it qualify as a backlink.  Just sayin'.  Need help?  Html for a text link back:  Cornerstone Confessions  

Visit at least two other links and share some encouragement.

Although not mandatory, I'd love it if you'd follow me in some way, shape or form.  I always enjoy making new friends.  And, if you follow me via RSS or e-mail you'll receive a link to my Blog-and-Home-Planner Printables FREE as a thank you!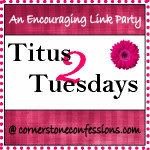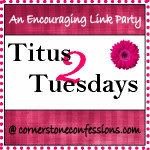 Likewise, teach the older women to be reverent in the way they live, not to be slanderers or addicted to much wine, but to teach what is good.
 Then they can urge the younger women to love their husbands and children,
 to be self-controlled and pure, to be busy at home, to be kind, and to be subject to their husbands, so that no one will malign the word of God.  Titus 2:3-5