This Week on Cornerstone Confessions:
This week on Cornerstone Confessions I had the opportunity to try out and review a personalized Kidzmet Playbook for Peanut.  Let me just say that it was the most amazing review I've ever done…hands down.  You'll have to read this post to see why but if you have children in your life whether your children or grandchildren I highly suggest you check out this product.  Even if you do nothing else the personality assessment is FREE and totally worth it!  In addition, you'll want to click over to enter the giveaway for your chance to win a personalized playbook FREE!
I just finished week 4 of my Straggling to Strong series.  This week's healthy habit: exercise.  Yes, we all know we need to exercise.  But have you ever thought of WHY you need to exercise from God's perspective?  If not, I'll hope you read this post.  The research I did definitely gave me a more eternal motivation for working out; maybe it will you too.
Last but definitely not least, I shared our 10th week of preschool.  We are definitely having fun.  If you are looking for some free home school materials for your preschooler or some supplemental activities you can do with your wee one, look no further.  We incorporate everything from Montessori-inspired activities to workbook activities and everything in-between for a well-rounded fun preschool experience.  As always, any preschool lesson plans and/or printables are free for you to download.
We have a lot of equally "most viewed" posts this week so get ready for some review fun.A prevention for Alzheimer's Disease?  According to Dawn Alzheimer's Disease is now being labeled as Diabetes Type 3.  What does that mean?  It means diet may make all the difference in the world.  If you read this article, be ready to be engulfed in some shocking and maybe even overwhelming statistics; her research for this post is very well done.  My conclusion: yet another reason I need to kick the sugar habit.  It's hard I know but our lives may depend on it.
In commemoration of National Banned Book week, this post is definitely one to check out.  In a word–I totally agree.  Read this book.  Your eternity depends on it.
Have you ever experienced a dream that when you awoke remained as vivid as if you had actually lived it and that you knew some kind of spiritual significance was involved?  Or, have you ever been led to pray for someone you didn't even known by the strangest of circumstances?  Sometimes we don't know the results of our prayers but they are still significant in God's eyes.  Read this post by Laurie and you'll see exactly what I mean.
This next post is for all those moms and grandmothers of little ones.  Allyson is taking 31 days to share fun and simple ideas for quiet time for little ones.  I definitely know I'll be referring back to these posts often over the next couple of years.
Is your prayer life becoming complacent?  Do you pray without really expecting an answer? If so, read this post by Kelli.  She definitely got me to thinking how I can change my prayer outlook and my sometimes selfish outlook on life.  Ouch.  Thanks for the reminder Kelli.
If you've ever seen those gutter bookshelves, and wondered how my might make something like it yourself, look no further.  Heidi provides a step by step instruction for creating these cute bookshelves you could put over, under or in-between bunk beds or really just about anywhere.  Now…where am I going to convince my hubby to put these….
Over 1000 bloggers have taken on the 31 days challenge.  Alana is no exception.  What makes her stand out in my mind though is her topic:  professional homemaking.  I love it.  It encompasses nearly everything Cornerstone Confessions stands for and she does it with a Christian perspective.  Yes!  If you are ready to be challenged as a homemaker then I highly encourage you to follow her on this journey.  But beware: this series comes with homework.  ;)
Some ladies at my church are starting a study of the book
7: An Experimental Mutiny Against Excess
 by Jen Hatmaker.  Thus, I seem to be extra sensitive to the discussion of contentment midst plenty or want.  All that to say, as Marlo suggests, have you ever been grateful for having less?  If not, maybe its time.
For those featured this week, feel free to grab a feature button:  


Now on to this week's party….
Each week I will do my best to share a few of the most clicked links as well as a few of my favorites.  Be sure to check back here every Tuesday to see if you've been featured and to link up.  Now let's get this party started.  I can't wait to see what you have to share!   

Party Guidelines:
Post topics can include the topics of marriage, parenting, homemaking, devotional thoughts, time management, money management, organization, home decor, recipes, DIY, tutorials, and more.  If it would encourage another to be a Titus 2 woman, let us hear about it, but please refrain from including giveaways, sales, Etsy, or linky party posts.  
Link as many posts as like that have not been linked to Titus 2 Tuesdays before.  Remember, link to a SPECIFIC post, not your whole blog.
Add a party button or text back link to your post.   My personal favorites always do.  ;) Why? Because doing so not only helps my SEO, it helps yours too.  By the way, only linking to your blog parties page at the end of your post really doesn't help anyone's SEO and neither does it qualify as a backlink.  Just sayin'.  Need help?  Html for a text link back:  Cornerstone Confessions  

Visit at least two other links and share some encouragement.

Although not mandatory, I'd love it if you'd follow me in some way, shape or form.  I always enjoy making new friends.  And, if you follow me via RSS or e-mail you'll receive a link to my Blog-and-Home-Planner Printables FREE as a thank you!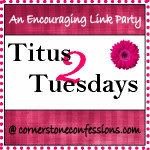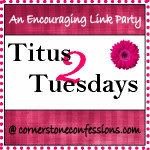 Likewise, teach the older women to be reverent in the way they live, not to be slanderers or addicted to much wine, but to teach what is good.
 Then they can urge the younger women to love their husbands and children,
 to be self-controlled and pure, to be busy at home, to be kind, and to be subject to their husbands, so that no one will malign the word of God.  Titus 2:3-5