This Week on Cornerstone Confessions:


Do you have some bad habits you'd like to get rid of or some new habits you would like to implement?  Well I know I certainly do and that is what this week was all about in my From Straggling to Strong series.  In this post I share ways to not only set your goals but how to accomplish them and instill some positive habits.  This is great advice for those pursuing a healthy lifestyle or those who would just like to get better at making positive actions a habit.  
I also shared about our recent mini-vacation that turned out to be a blast!  And for once, my hubby took some pictures that included me!
 If you are ever near the Enid/Kingfisher Oklahoma area, these are definitely some places you'll want to go.
This next post is for all those app lovers out there.  I always enjoy hearing about new apps that may be something I'd enjoy so here's a list of 10 of my favorite apps.  Maybe you'll find something new to add to your gadget.
Whats so wrong about choosing to be a stay-at-home mom as a profession?  Not a lot if you ask me.  And neither does this mom on Lessons from Ivy who has seen a lot of criticism over the years but no regrets.  Her post leads to another great post as well so be sure to check them both out.
This post by Amanda is so encouraging because kids do just drag it all out.  I love her take on the ugly that is being dragged out of me a mom.  Thank you Amanda for this post.
As a blogger, I couldn't help but favor this next one.  If you like me as a blogger or you like reading other people's blogs as well, read this.  It's just a great reminder of how you can show other bloggers your appreciation.  In fact, I plan on incorporating some of these this next week on some of my favorite blogs!
For those featured this week, feel free to grab a feature button:  


Now on to this week's party….
Each week I will do my best to share a few of the most clicked links as well as a few of my favorites.  Be sure to check back here every Tuesday to see if you've been featured and to link up.  Now let's get this party started.  I can't wait to see what you have to share!   

Party Guidelines:
Post topics can include the topics of marriage, parenting, homemaking, devotional thoughts, time management, money management, organization, home decor, recipes, DIY, tutorials, and more.  If it would encourage another to be a Titus 2 woman, let us hear about it, but please refrain from including giveaways, sales, Etsy, or linky party posts.  
Link as many posts as like that have not been linked to Titus 2 Tuesdays before.  Remember, link to a SPECIFIC post, not your whole blog.
Add a party button or text back link to your post.   My personal favorites always do.  ;) Html for a text link back:  Cornerstone Confessions

Visit at least two other links and share some encouragement.

Although not mandatory, I'd love it if you'd follow me in some way, shape or form.  I always enjoy making new friends.  And, if you follow me via RSS or e-mail you'll receive a link to my Blog-and-Home-Planner Printables FREE as a thank you!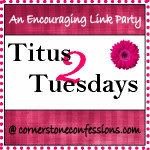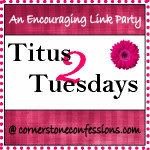 Likewise, teach the older women to be reverent in the way they live, not to be slanderers or addicted to much wine, but to teach what is good.
 Then they can urge the younger women to love their husbands and children,
 to be self-controlled and pure, to be busy at home, to be kind, and to be subject to their husbands, so that no one will malign the word of God.  Titus 2:3-5