This Week on Cornerstone Confessions:
This week was quite a crazy week at our house.  The biggest news–Teacup turned one!  Hard to believe its been a year, but she is off walking all around the house and talking up a storm with what few words she knows.  Her sister is going to have some fierce competition I can tell.
This week I shared our favorite homemade pizza crust and pizza sauce recipes.  Both are super easy and seriously rival most restaurants around.
We also finished up Peanut's closet.  I imagine you will quickly be able to tell her favorite color!
Finally, I shared with my readers this week the request to fill out an anonymous survey to help me better understand my readers.  I'd be so appreciative if you'd take the time to fill out
this survey
too.  
As a thank you, you will have an opportunity at the end of the survey to enter a $25 Amazon e-Gift Card giveaway.  Thank you for serving me in this fashion and I look forward to sharing with you even more exciting posts as a result of your input!
This week's most viewed link shot the rest of the competition out of the water with nearly double the page views!  Wow!  Needless to say, because of that, today her feature stands alone on this most viewed section.  Rosilind shares why she is canceling her personal account on Facebook.  Let me just say this, don't read this post unless you are prepared to be convicted!
Personal Favorites:
Gail has been hard at work lately redoing an upstairs walk-in closet for your grand kids.  Check out this cute closet turned play house!
This next post is just in time for back-to-school planning.  I would almost call this post the "Ultimate Guide to Growing a World Christian."  Thank you Kara for all these excellent tips and resources on teaching our children to keep the broader perspective in mind.
Lastly, Heidi is giving away an amazing resource this year for back-to-school time–Lunchbox Love Notes.  Okay, I may not be using these much for my daughters but I think I may just use some for my hubby because he likes a little lunchbox lovin' too!  Thank you Heidi for the free download.
For those featured this week, feel free to grab a feature button:  


Now on to this week's party….
Each week I will do my best to share a few of the most clicked links as well as a few of my favorites.  Be sure to check back here every Tuesday to see if you've been featured and to link up.  Now let's get this party started.  I can't wait to see what you have to share!   

Party Guidelines:
Post topics can include the topics of marriage, parenting, homemaking, devotional thoughts, time management, money management, organization, home decor, recipes, DIY, tutorials, and more.  If it would encourage another to be a Titus 2 woman, let us hear about it, but please refrain from including giveaways, sales, Etsy, or linky party posts.  
Link as many posts as like that have not been linked to Titus 2 Tuesdays before.  Remember, link to a SPECIFIC post, not your whole blog.
Add a party button or text back link to your post.   My personal favorites always do.  ;) Html for a text link back:  Cornerstone Confessions

Visit at least two other links and share some encouragement.

Although not mandatory, I'd love it if you'd follow me in some way, shape or form.  I always enjoy making new friends.  And, if you follow me via RSS or e-mail you'll receive a link to my Blog-and-Home-Planner Printables FREE as a thank you!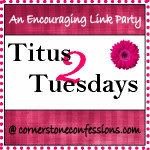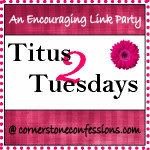 Likewise, teach the older women to be reverent in the way they live, not to be slanderers or addicted to much wine, but to teach what is good.
 Then they can urge the younger women to love their husbands and children,
 to be self-controlled and pure, to be busy at home, to be kind, and to be subject to their husbands, so that no one will malign the word of God.  Titus 2:3-5