This Week on Cornerstone Confessions:
This week was a busy one on Cornerstone Confessions with more posts than normal due to several extra special events happening across the web.  Here's a few highlights:
This week I announced some new galleries now available on Cornerstone Confessions for everything from blogging tip to recipes.  If you want a glimpse into everything Cornerstone Confessions is about, be sure to check out this post. 
New!  Galleries!
On Monday I linked up to the iHN "Not" Back-to-School Blog Hop as I share a summary of our 2012-2013 curriculum choice.  If you are interested in an all-inclusive preschool curriculum or linking up your own curriculum plans for the year to this top-notch blog party then this post is for you.
"Not" Back-to-School Blog Hop:  2012-2013 Curriculum Plan
Finally, I shared our 4th week of our home school preschool year.  Our new excitement–a new easel!  What fun!
Encompass Week 4 Review
What would you give up if you knew you needed $440 to make ends meet?  Would you be willing to give up your land line?  Your cable?  Your car?  If you need some budget crunching inspiration look no further.  Crystal shares some excellent ideas for how she came up with an extra $440 per month to reach her budget goals.  If she can do it, you can too.
Budget Series:  Squeezing out an extra $440 a month on Serving Joyfully
If you've followed Cornerstone Confessions for awhile you know that I recently completed The Husband Project with a few friends of mine and loved it.  Thus, how excited I am to see Christin initiate an online challenge to fellow bloggers and readers to complete The Husband Project with her.  If you want to grow in your relationship with your husband, this is definitely worth a look into and with online accountability like this, you might even make a few friends in the process.
This week I just must be extra focused on home schooling or something because every one of my favorites had something to do with home schooling.
Cube2Farm provides a fabulous list of preschool printable resources from across the web….
Where to Find FREE Preschool Printables on Cube2Farm
Lori shares some great encouragement for home schooling moms….
Homeschooling–The Hardest Thing I've Ever Done on Be Not Weary
And Tracy shares some fun preschool music resources and instruments.  I will tell you–as a former elementary music teacher, these lollipop drums are the best!
For those featured this week, feel free to grab a feature button:  


Now on to this week's party….
Each week I will do my best to share a few of the most clicked links as well as a few of my favorites.  Be sure to check back here every Tuesday to see if you've been featured and to link up.  Now let's get this party started.  I can't wait to see what you have to share!   


Party Guidelines:
Post topics can include the topics of marriage, parenting, homemaking, devotional thoughts, time management, money management, organization, home decor, recipes, DIY, tutorials, and more.  If it would encourage another to be a Titus 2 woman, let us hear about it, but please refrain from including giveaways, sales, Etsy, or linky party posts.  
Link as many posts as like that have not been linked to Titus 2 Tuesdays before.  Remember, link to a SPECIFIC post, not your whole blog.
Add a party button or text back link to your post.   My personal favorites always do.  ;) Html for a text link back:  Cornerstone Confessions

Visit at least two other links and share some encouragement.

Although not mandatory, I'd love it if you'd follow me in some way, shape or form.  I always enjoy making new friends.  And, if you follow me via RSS or e-mail you'll receive a link to my Blog-and-Home-Planner Printables FREE as a thank you!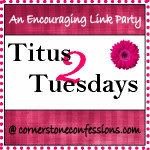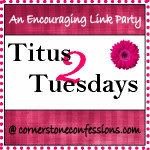 Likewise, teach the older women to be reverent in the way they live, not to be slanderers or addicted to much wine, but to teach what is good.
 Then they can urge the younger women to love their husbands and children,
 to be self-controlled and pure, to be busy at home, to be kind, and to be subject to their husbands, so that no one will malign the word of God.  Titus 2:3-5