This Week on Cornerstone Confessions:
This week marks week two of our preschool experiment.  We are definitely on a roll.
Peanut and I also had fun creating our own watercolor paint.  Come check it out.  It was so easy and the colors were amazing!

Also, don't forget to sign your blog up for the free blog button exchange that will be going during the month of August.  You can sign up through the end of this week to be entered in this free advertising opportunity.  


Being a family of a rather small income as well, I definitely appreciated this frugal living post on Countrified Hicks.  While I don't know that I'm ready to wash my clothes my hand outside there are a few other tips Melody shares that I'm sure we will be incorporating soon.
My grandma taught me this next one.  She used to always do her dishes right away after a meal.  If you wanted to talk to her after eating you'd have to follow her into the kitchen to help dry.  Thanks to Jenni, now I know why.
5 Reasons You Shouldn't Procrastinate Washing Dishes on  Jenni Mullinix
Okay I admit it–sometimes I struggle with appearing like I have it all together when I don't.  You ever have that problem?  You want to try to appear like you have it all together so that others think…well so that others think you have it all together.  It's silly really and as this post suggests–could be detrimental to your spiritual testimony. Check it out.
Seems like frugal living was one of the most viewed topics last week on Titus 2 Tuesday.  This post was no exception.  Jessi, aka Drama Mama, provides several tips for creating and living on a budget that can be implemented right away whether you have a family of 6, 2 or 1
.
As you know I love finding things that encourage Titus 2 living both in myself and others.  I especially want to be able to instill these character traits in my daughters as they get older.  Jamie, at the Unlikely Homeschool, has created a summer program for her girls and their friends to teach them to become just that–Titus 2 Girls.  This is such a neat idea.  If this is your desire at all, you've got to check this out!
If Heather's evacuation story isn't amazing enough then her well-thought-out evacuation plan is.  Seriously, she has some great tips we can all learn from.  You never know when you might have an unexpected event demanding an evacuation or a week of grid-less living.
For those featured this week, feel free to grab a feature button:  


Now on to this week's party….
Each week I will do my best to share a few of the most clicked links as well as a few of my favorites.  Be sure to check back here every Tuesday to see if you've been featured and to link up.  Now let's get this party started.  I can't wait to see what you have to share!   


Party Guidelines:
Post topics can include the topics of marriage, parenting, homemaking, devotional thoughts, time management, money management, organization, home decor, recipes, DIY, tutorials, and more.  If it would encourage another to be a Titus 2 woman, let us hear about it, but please refrain from including giveaways, sales, Etsy, or linky party posts.  

Link as many posts as like that have not been linked to Titus 2 Tuesdays before.  Remember, link to a SPECIFIC post, not your whole blog.
Add a party button or text back link to your post.   My personal favorites always do.  ;) Html for a text link back:  Cornerstone Confessions

Visit at least two other links and share some encouragement.

Although not mandatory, I'd love it if you'd follow me in some way, shape or form.  I always enjoy making new friends.  And, if you follow me via RSS or e-mail you'll receive a link to my Blog-and-Home-Planner Printables FREE as a thank you!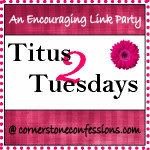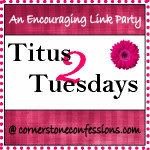 Likewise, teach the older women to be reverent in the way they live, not to be slanderers or addicted to much wine, but to teach what is good.
 Then they can urge the younger women to love their husbands and children,
 to be self-controlled and pure, to be busy at home, to be kind, and to be subject to their husbands, so that no one will malign the word of God.  Titus 2:3-5