4 Flares
Made with Flare

More Info

'>
4 Flares
×
Can you believe Titus 2 Tuesday is now in its 3rd month?  Craziness.
This Week on Cornerstone Confessions:


This week I rolled out another free printable…a grocery shopping list printable.  I love it because it organizes my shopping list by store aisle.  When it's time to go, I can just take my shopping list off my pantry bulletin board and go.  In addition, when I'm at the store I don't have to backtrack.  I just follow the list aisle-by-aisle.  Easy and saves me lots and lots of time!


Thursday came the BIG announcement of a free Blog Button Exchange.  If you want some free advertising for your blog, be sure to check this post out and link up.  




Yesterday marked the official beginning of our home schooling hike.  The planning has been long in coming but we're officially here.  As such, I shared our simple morning board made from a plastic hanging 4×6 collage photo frame and our morning box that goes with it.  If you're looking for a fast, easy, and organized way to have a morning board in your home school this year, click on over to check this out.  We love it!
I think what I enjoy most about Dawn's website is the research she puts into her posts.  This one on reusable shopping bags is no exception.  Do you know what happens to those plastic bags you use for shopping?  Or even those paper bags?  How would you like to have a reusable shopping bag that would fit in your back pocket?  Dawn shares several green facts as well as a reusable set of shopping bags that have changed her life.
Spray painted frames, family words…I so want to do this in Teacup's room.  Her step-by-step tips are giving me some great ideas.  I love how Marty's wall turned out too.  So fun.
Butterscotch pudding, cool whip, pecan sandies…what's not to love about this recipe?!  Seriously, it is on my docket to make very soon.  Yum!
As one who has tried to perfect the use of couponing in a town where only one store doubles coupons and other stores can often beat the coupon price without the use of coupon, I was more than intrigued to read this post on Serving Joyfully.  I am so thankful I did too.  While I found couponing fun and money-saving prior to children, it now often seems a chore and less money-saving than before.  In addition its taking time away from my children that causes me to question, is it worth it?  If you've had any of these thoughts or others, be sure to check out this article.  You may begin to rethink the couponing thing too.
For those featured this week, feel free to grab a feature button:  


Now on to this week's party….
Each week I will do my best to share a few of the most clicked links as well as a few of my favorites.  Be sure to check back here every Tuesday to see if you've been featured and to link up.  Now let's get this party started.  I can't wait to see what you have to share!   


Party Guidelines:
Post topics can include the topics of marriage, parenting, homemaking, devotional thoughts, time management, money management, organization, home decor, recipes, DIY, tutorials, and more.  If it would encourage another to be a Titus 2 woman, let us hear about it, but please refrain from including giveaways, sales, Etsy, or linky party posts.  

Link as many posts as like that have not been linked to Titus 2 Tuesdays before.  Remember, link to a SPECIFIC post, not your whole blog.
Add a party button or text back link to your post.   My personal favorites always do.  ;) Html for a text link back:  Cornerstone Confessions

Visit at least two other links and share some encouragement.

Although not mandatory, I'd love it if you'd follow me in some way, shape or form.  I always enjoy making new friends.  And, if you follow me via RSS or e-mail you'll receive a link to my Blog-and-Home-Planner Printables FREE as a thank you!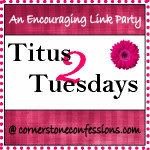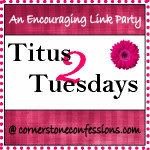 Likewise, teach the older women to be reverent in the way they live, not to be slanderers or addicted to much wine, but to teach what is good.
 Then they can urge the younger women to love their husbands and children,
 to be self-controlled and pure, to be busy at home, to be kind, and to be subject to their husbands, so that no one will malign the word of God.  Titus 2:3-5