You ever have one of those weeks were you know it has to get better but it seems to get even worse first?  THAT was my week last week.  Started out with a crazy day or two and by the end I had quesadillas on the floor instead of on the plate, homemade granola bars in crumbles, 
no internet service for days, 
and a shirt worn backwards to a board meeting (talk about embarrassing).  On the upside, I'm helping out with Vacation Bible School at our church this week and by day one we had so many students signed up that instead of just coordinating several classrooms of teachers I ended up teaching too.  Yes, a bit stressful but oh so fun.  I love my 4th graders!
This Week On Cornerstone Confessions


This week on Cornerstone Confessions, I was excited to share Teacup's closet makeover as well as a review of a recent book I read, called "Cleaning House."  Be sure to check those out if you haven't and even check out the comments…one from Kay Willis Wyma herself.  What fun!


Hilda  and I must have been on the same train of thought these last few weeks as she has been busy cleaning out her daughter's clothing too.  She purged, gave away, grouped clothes by size and more.  Check her post out for even more ideas for organizing and sorting children's clothing.
Simplify:  What Needs to Be Simplified in Your Life on Cheeky Bums
Do you have a good grasp on WHAT needs to be eliminated or simplified in your life to live in a way that is more joyful and fulfilling?  Check out this post by Gretchen which puts a different spin on those obligations, expectations, physical and mental clutter we all have in our lives that could use a little simplifying.  It's definitely calling for a makeover in my life.
Crystal on Serving Joyfully presents a wonderful perspective on the word "poor" and the attitude associated with it.  In a word–it's all associated with one's PERSPECTIVE.  Great post!
Want to receive some insight into those CFL light bulbs taking over the world?  Check out this post by Dawn.  I learned a lot about what I really should and should not be considering for my fixtures.  Definitely something to check out.
If you plan on having guests over in the next few months you might want to check out this post by Susan.  She presents twelve excellent tips for how to make your overnight guests feel more welcome.  Love it.
For those featured this week, feel free to grab a feature button:

Now on to this week's party….
Each week I will do my best to share a few of the most clicked links as well as a few of my favorites.  Be sure to check back here every Tuesday to see if you've been featured and to link up.  Now let's get this party started.  I can't wait to see what you have to share!
Party Guidelines:
Post topics can include the topics of marriage, parenting, homemaking, devotional thoughts, time management, money management, organization, home decor, recipes, DIY, tutorials, and more.  If it would encourage another to be a Titus 2 woman, let us hear about it, but please refrain from including giveaways, sales, Etsy, or linky party posts.
Link as many posts as like that have not been linked to Titus 2 Tuesdays before.  Remember, link to a SPECIFIC post, not your whole blog.
Add a party button or text back link to your post.   Html for text link back:  Cornerstone Confessions
Visit at least two other links and share some encouragement.
Although not mandatory, I'd love it if you'd follow me.  I always enjoy making new friends.  Also, feel free to spread the word so that we can make this the biggest and best inspirational party ever.  

(<–

Tweet This

)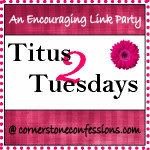 Likewise, teach the older women to be reverent in the way they live, not to be slanderers or addicted to much wine, but to teach what is good.
 Then they can urge the younger women to love their husbands and children,
 to be self-controlled and pure, to be busy at home, to be kind, and to be subject to their husbands, so that no one will malign the word of God.  Titus 2:3-5