What a week.  For those of you who read my post "N
ooo
oo!" you know it's definitely had its challenges. Even so things are starting to look up.  Here's a few highlights from my bloggy week:
I hope you'll take time to check those out if you haven't already, I know what you really want to know about are this week's features!  Before I get too carried away though, I need to present last week's features one more time as for some reason not all of them displayed correctly on  the website and I don't want to leave anyone out.
Last week's most viewed:
Last week's personal favorites:
Now on to this week's Titus 2 Tuesday!
This week's party features with the most views:
Crystal shares about a simple conversation between her and her husband over the unlikely topic of Grape Nuts that in turn transforms her view of herself and God.  It's definitely worth a read, especially if you have or have had any type of battle with depression.
Paula shares some practical lessons she is going teach her children in regards to chores this summer.  Everything from learning how to do a new chore to doing a chore more effectively.
This week's personal favorites:
Heather's cute chalkboard pantry labels made with chalkboard contact paper make me want a cricket so I can redo my pantry all over again.  Cute!
My husband and I are attempting to grow an organic garden this year but let's just say, organic and broccoli make for a few challenges indeed.  This very informative post on Small Foot Print Family is definitely one of the most helpful resources I've seen on the topic.  If you are attempting to garden organic at all check out this piece of valuable information.
For those of you featured this week, feel free to grab a feature button:

Now on to this week's party….
Each week I will do my best to share a few of the most clicked links as well as a few of my favorites.  Be sure to check back here every Tuesday to see if you've been featured and to link up.  Now let's get this party started.  I can't wait to see what you have to share!
Party Guidelines:
Post topics can include the topics of marriage, parenting, homemaking, devotional thoughts, time management, money management, organization, home decor, recipes, DIY, tutorials, and more.  If it would encourage another to be a Titus 2 woman, let us hear about it, but please refrain from including giveaways, sales, Etsy, or linky party posts.
Link as many posts as like that have not been linked to Titus 2 Tuesdays before.  Remember, link to a SPECIFIC post, not your whole blog.
Add a party button or text back link to your post.   Html for text link back:  Cornerstone Confessions
Visit at least two other links and share some encouragement.
Although not mandatory, I'd love it if you'd follow me.  I always enjoy making new friends.  Also, feel free to spread the word so that we can make this the biggest and best inspirational party ever.  

(<–

Tweet This

)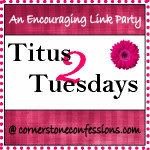 Likewise, teach the older women to be reverent in the way they live, not to be slanderers or addicted to much wine, but to teach what is good.
 Then they can urge the younger women to love their husbands and children,
 to be self-controlled and pure, to be busy at home, to be kind, and to be subject to their husbands, so that no one will malign the word of God.  Titus 2:3-5