What fun it is to see what you are doing in your homes to be a better Titus 2 women.  You all are amazing!  We had a great turn out again last week for the second Titus 2 Tuesday.  I enjoyed seeing what all you have been up too.  In addition, I'm so thankful each week to see that you have chosen to link up with Cornerstone Confessions.
Thank you!
This week we have two party features with the most views:
I've seriously been thinking about my wardrobe overhaul and I really liked the view Jennie shares on Homestead Living.  If you didn't have a chance to read this article last week, I highly recommend it.  It's high time we bring back the femininity of what it means to be a woman.
If you've followed me for any length of time you know I like to read books.  Heather on Our Cultivated Life has some great books on her summer reading list.  I know I'll definitely be adding "Grace Based Parenting" and "Give Them Grace" to my book list and maybe a few others too.
And my personal favorite:
A friend of mine and I recently had a conversation about this…do we really have to get up to cook our hubbies breakfast if we are going to try to be that Proverbs 31 woman?  Be sure to check out Gail's post because she has some great encouragement for all us women out there who think they will never meet the biblical standard of womanhood unless we cook breakfast for our hubbies.
For those of you featured this week, feel free to grab a feature button:

Now on to this week's party….
Each week I will do my best to share a few of the most clicked links as well as a few of my favorites.  Be sure to check back here every Tuesday to see if you've been featured and to link up.  Now let's get this party started.  I can't wait to see what you have to share!
Party Guidelines:
Post topics can include the topics of marriage, parenting, homemaking, devotional thoughts, time management, money management, organization, home decor, recipes, DIY, tutorials, and more.  If it would encourage another to be a Titus 2 woman, let us hear about it, but please refrain from including giveaways, sales, Etsy, or linky party posts.
Link as many posts as like that have not been linked to Titus 2 Tuesdays before.  Remember, link to a SPECIFIC post, not your whole blog.
Add a party button or text back link to your post.   Html for text link back:  Cornerstone Confessions
Visit at least two other links and share some encouragement.
Although not mandatory, I'd love it if you'd follow me.  I always enjoy making new friends.  Also, feel free to spread the word so that we can make this the biggest and best inspirational party ever.  

(<–

Tweet This

)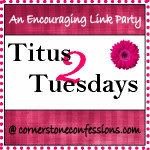 Likewise, teach the older women to be reverent in the way they live, not to be slanderers or addicted to much wine, but to teach what is good.
 Then they can urge the younger women to love their husbands and children,
 to be self-controlled and pure, to be busy at home, to be kind, and to be subject to their husbands, so that no one will malign the word of God.  Titus 2:3-5