The first EVER Titus 2 Tuesday!  
Titus 2 Tuesdays was inspired by Titus 2:3-5 which says…
"Likewise, teach the older women to be reverent in the way they live, not to be slanderers or addicted to much wine, but to teach what is good.
 Then they can urge the younger women to love their husbands and children,
 to be self-controlled and pure, to be busy at home, to be kind, and to be subject to their husbands, so that no one will malign the word of God."  
As a Developing Domestic Diva Drawing on the Divine, I am constantly looking for new and/or better ways to become a better Titus 2 woman.  And what better way to learn about some amazing ideas and resources than a blog party?!  
Each week I will do my best to share a few of the most clicked links as well as a few of my favorites.  Be sure to check back here every Tuesday to see if you've been featured and to link up.  Now let's get this party started.  I can't wait to see what you have to share!
Party Guidelines:
Post topics can include the topics of marriage, parenting, homemaking, devotional thoughts, time management, money management, organization, home decor, recipes, DIY, tutorials, and more.  If it would encourage another to be a Titus 2 woman, let us hear about it, but please refrain from including giveaways, sales, Etsy, or linky party posts.
Link as many posts as like that have not been linked to Titus 2 Tuesdays before.  Remember, link to a SPECIFIC post, not your whole blog.
Add a party button or text back link to your post.
Visit at least two other links and share some encouragement.
Although not mandatory, I'd love it if you'd follow me.  I always enjoy making new friends.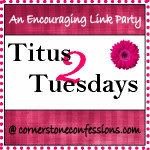 Two are better than one, because they have a good reward for their toil.  Ecclesiastes 4:9